---
''Believe that miracle can be reality.''
Assalamualaikum stalkers readers. What's up? Hope all of you guys are doing well. I'm pretty sure some of you might have bad day/feeling today. But as a friend to you, I would like to remind you that keep smiling even you are not okay. Smiling is like a virus. When a person is smiling, the others might smile too. So, let's spread the smile and prevent that sobbing and mad with rage face [it's ugly to be honest].Spread smiles. The Prophet Muhammad said that even smiling and saying a kind word is charity. #InspiredByMuhammadS.A.W.
''When you smile to your brother's face, it is charity.'' - Prophet Muhammad
Hence, if you're in a pickle/in hot water (in trouble), Be patient. It's sunnah! Soon, you'll see the beauty/ benefit of being patient when you're in trouble. Based on my experience, I can tell that it is the truth. When I was in Form 4 (2014), I failed to be a prefect in school for 2015 which have made me upset of myself. But I didn't make an attempt to burst into tears. Instead, I tried to be positive. As all my friends were able to grab that chance, I was sitting alone behind them, worrying about my marks/percentage for my co-curriculum. Soon, I decided to be secretary of Red Crescent Moon Association. (That's what I was thinking in my mind). There was a train of thoughts playing around in my brain (also in my tiny heart). Well, I'm not active person. I can say that I'm a shy person, have a slow/soft voice. But that's only when I'm with strangers or others excluding my family members and best friends. I really hate this side in myself. However, I never make a plan to change that personality.
Back to the topic, when the RCM (PBSM in malay) members were gathering, I just stayed silent. My decision to be a secretary PUFF! Vanished into a thin air. The others kept saying their friends name. I stayed... rooted. Watching the candidates for president's position... Phew all girls ( boys rarely join PBSM right?) At last, one of my teachers pointed at me... Saying that I'm capable and suitable. What? I never be in this position before. My highest position was just a treasurer in my class for 2 years in a row (need applause?) At last, majority of the members agreed to have me as the president. Later on, I returned home... cycling to home (I'm not staying in hostel, I was just cycling because my home is just a stone's throw away.) Come to think of it, if I got to be a prefect, I have zero chance to be in this position. WHAT A MIRACLE!
The following week. I joined Math Innovation club. This time, the teachers will decide themselves to choose student for the president and others. Well, I was hoping nothing... but I said in mind, if I get the lowest position, I might be happier. The president was a boy, as expected. Then, one of the teachers choose me to be assistant for president... OH MY! WHAT? ANOTHER MIRACLE! But soon she knew that I am the president of PBSM for 2015. But Allah said...
So I was choosen. Alhamdulillah. Since that day, I was not worrying too much about my marks for co-curriculum. Allah is fair. I'm also satisfied with my marks right now.
In a nutshell, think! Face the world. Never give up. Allah gave me chances. Soon, I have to make a hay while the sun shines with the Allah's help to achieve my goals. It's okay to upset about a little thing but don't take time. Time is running. There will be the ups and the downs in our lives. But, be confident! I dare you, take the paper and marker. Write BE CONFIDENT as big as your paper. Then put it on the wall in your room. You can gain the confidence! The moral of the story is....... (look below) InshaAllah.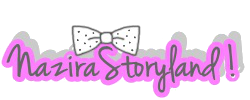 ---
Thanks for reading! :D
---