---
''Never stop learning, because life never stops teaching.'' - twitter.com
I already achieved a lot of goals without realising it. Soon, I forgot to be grateful person. Bruno Mars said, t
oo dumb,
too young to
realise. Oh sorry, I'm not going to say myself dumb. The old me might a little dumb, but I'm crawling against it because I don't deserve that title. I'm way better.
Before this I was aching all over in so much agony that even myself couldn't remember the pain that I've been through. I'm glad that I'm still breathing in this fresh air. Without so much worries because the past years taught me a lot of lessons and finally I barely escaped from that terrible life.
But when it comes to my bad temper, I do argue over meaningless things, proving that I still have my childish charm on my own way. I should listen others' opinions, yes I do but sometimes I don't accept. In this circumstances, I should be thankful because they didn't leave me. They accepted the other side of me including the horrible one. Unfortunately, I didn't think twice that there must be even a little leftover of my bad attitude in their hearts that might hurt them.
If and only if I able to dive into their heart and search for my mistakes. IF ONLY.
The other side of me before, uhm am I going to reveal it? Yes because I'm moving on to another chapter of my life. All this while, when I had nasty day, I cried instead of thinking the silver lining of the incidents. I felt that I've been humiliated, left aside and thought that myself was full of hatred by some people. I did cry over silly things. Gosh! I was negative-minded all the time. Actually they didn't. Of course they didn't. Thanks to that awful experiences, I'm no longer too sensitive when it comes to moderate conflicts. However, I am pretty sure I am not strong enough to face a HUGE trouble all alone yet I'm still learning to do so.
Age is just a number, maturity is a choice.
I want to be hundred percent positive. It may be hard but no pain no gain, right? Don't laugh, I'm serious. Let's not be an idiot for crying of nothing. As an easy example, crying for this person > BOY. Well, as a girl I did that before. WHAT? I'M NORMAL. Falling in love for a boy is normal when puberty hit you. But the vital thing is how you handle the situation. Whether you keep it deeply in your heart or you just meet him face by face and confess (congrats for brave girl like this). Based on my observations, I do agree that when you keep it deeply in your heart, you hurt more. Because you will be confuse of him and also yourself. SO. LET'S BE ABNORMAL. Right now, I have no feeling towards any boy and I have no time to think about it. It's enough with a few experiences before this. I had that love feeling before. It's too beautiful created until it's too hurt to forget. But, I showered praises for myself cause able to forget easily about....him. EH?
''If you're not losing friends then you're not growing up.'' -facts
I'm growing up! Hurray! I get motivated by Kelly Clarkson's song --> Breakaway. ''I'' spread my wings and I'll learn how to fly, I'll do what it takes till I touch the sky and I'll make a wish, take a chance, make a chance, and breakaway. Out of the darkness and into the sun. BUT I WON'T FORGET ALL THE ONES THAT I LOVE. I'll take a risk, take chance, make a change and breakaway. I do love a few of Kelly's song. The lyrics are the cure to the ill melodies and soon forming a great momentum for me and others. Nonsense? Sorry! Hmm, I may lose my old best friends. But I believed they came in my life for awhile for some reasons. Like.... to make me realise that I have to be brave in reality. I was living in virtual life before? Well, a bit! Indeed, I'm grateful right now cause best people in my life still besides me. Family, friends, and last but not least, the special one, my little me.
Goodbye. May all the force be with you.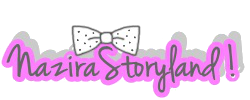 ---
Thanks for reading! :D
---