---
Assalamualaikum, silent reader(s)!~ ^^
Hello guys! Happy new year~ InshaAllah pada tahu 2016 kita semua mampu menjadi manusia lebih baik. Be strong in your life. Because there will be endless problems to be faced. Takkanlah Allah tak uji hamba-Nya kan? So, apapun we have to be positive-minded all the time! Keep it up & you can do it...

In 2016, kuragehime.blogspot.com dah berwajah baru~ Tada!!! Hehehe.... still in pink but different type of pink. If I'm not mistaken, pink salmon. Ada jugak pink lain-lain. Apapun aku dan pink takkan terpisah. Kehkehkeh! Thanks jugak
Sis Om
.. I'm so grateful to meet an honest and kind person like her. Alright so lepas 2 hari mengedit blog. Inilah kuragehime98 versi baru. Hehe... since 2012 tau.. 17 Ramadhan.. <3
In 2016, owner blog ini dah berumur 18 tahun dan beberapa hari since I am decemberian. Well, masih banyak liku liku hidup yang perlu ditempuhi. Apapun tahniah buat diri sendiri dan TUNA sebab dah dapat lesen L both kereta and motor kecuali si Anis (kereta je). Tak sabar nak dapat P pulak and drive vrooom!~ Doakan kami guys, inshaAllah.
In 2016, MARCH. Result SPM will be revealed. Okay yang ni part yang paling mendebarkan aku. Because I knew what I've made. InshaAllah. Tu je mampu cakap. Goodluck student TePCES batch #007. Lepas result, masuk U. Maka terbanglah semua ke bidang masing - masing. Aku si tuna members tak lupa aku yang comel ni. Mestilah kan? Tuna Sejati lah katakan. *krik krik* (baik gile ayat aku)
Tuna members...
Norshahira bt Mohamed Zambri (26 Jan 1998)
Wan Nur Syahirah bt W. Hassan (16 July 1998)
Anis Asyikin bt Alui (4 Oct 1998)
Nazira Hazwani bt Abdul Manan (26 Dec 1998)
Itu sajalah untuk entry kali ni. Lain kali aku nak hurai mereka ni kahkahkah! Semoga bahagia anda semua dengan orang orang tercinta. Aamiin...



#NOTA KAKI - Kepada batch 1998 dan lain lain yang berkenaan. Diharap agar pandai manage masa dengan baik (sebenarnya ni nasihat buat diri sendiri... keh keh keh!) Enjoy your life! //Written by : Nazira Hazwani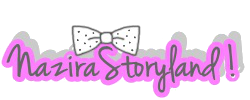 ---
Thanks for reading! :D
---