皆
さ
ん
、
こ
ん
に
ち
は
!
^
^

Been a long time!~ Holiday will come to the end soon. Time flies like an arrow, especially when you're at home. Definitely. Never mind. Oh anyway... HELLO 2018. 19 years old 9 days Nazira is walking into 20 years old world wuho! Good luck babe.
So, I'm keeping my previous post in draft section since I'm starting to dislike about it. Yeah whatever, I'm going to live abnormally and at this circumstances, I don't mind and I don't care. Having that kind of feeling was suck and I'm wishing to get rid of it fully from my life. Let's live better than before. Expectation is the root of all heartache. I've been through lot of things. Let's clear unwanted feelings, reset my heart and whatsoever.
What's up 2 weeks of holiday? I watched Jumanji Welcome To The Jungle 2 times. But the most important one is... I celebrated my 19th birthday. And the person that I was hoping to wish for my birthday... DIDN'T WISH ANYTHING :'D Thanks for that anyway. I'm going further from you. I moved because of your words but then that was just nothing. An ordinary chat. Not even special. It was just nothing.
Your silence is the loudest to me.
After train of thoughts playing in my mind, I finally understand. Sometimes, you didn't get what you desire because your desires might just a few, but you deserve a lot. One of my friends wrote that kind of quotes in a birthday card and gave it to me. Thanks buddy! Oh, he even gave me cadbury OREO. Yummy! Oh no, my tummy is growling! Current time : 2.38A.M.
Alright, I'm out of ideas. Last but not least, let's talk about 2018.Gonna be tough year, I guess. I mean, of course! Life should be harder when we get older right? Love or not, challenge yourself. Remember, Allah tests you, because He knows you can get through that. You're stronger that you think!
Here's my goals for 2018, just some goals that popped in my mind.


Get thinner! Oh yes please! Lately, I ate too much and a bit concerned about my health and weight too! Since I am short girl... Yeah whatever.
I would like to spread smile! Omg I love people's smile so much! Warm smiles give me positive vibes, a lot!
Gain my confidence level of course. I'm going to socialize with many people. So get rid of shyness! Mingle around.
Stop having any unwanted feeling. Especially towards a person. You gotta need time for yourself, this time. Chin up babe!

I got a lot of things in my mind. But I guess that's all for now. Leaving, see you! Adios!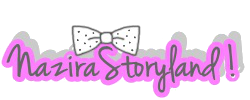 ---
Thanks for reading! :D
---