---
Assalamualaikum, stalkers! It's been awhile I didn't make an entry in this blog right? Well, right now is November 2014. Alhamdulillah, my days in school on this year were spent well. I also have finished my final exam which synonyms to war for student like me. I'm eager to know my results, even I know my biology's result will be a total awful. Huwa!~ To be honest, I've got a few results but I'm still waiting for saps!
Next chapter! Current mode is holiday. Ottoke? Tak tahu nak buat ape. Actually, nak buat origami pink jellyfish tu lagi. It was extremely sad when flood came last year and pinky jellyfish hancur. Padahal, baru je buat beberapa hari. Uhuk! But you know, origami is kind of hard thing to do and have to set on mind
''PATIENCE IS VIRTUE''
baru boleh buat. Watching drama? Uh, I'm not really a drama lover. This year I have started watching Running Man after a lot of people recommended me to watch it. Itu pun bukan drama. Maaflah, saya minat yang ada Ryo Nishikido dengan Kang Gary je haha~
Next suggestion, sight seeing! Yes I definitely love this but seems like I dont have any chance to grab this dream~ Next, study? Hahahahahahahaha I'm sorry all of the books are sleeping in the boxes and I am truly kind so that I will never disturb them! *erk!* So, my mundane right now is just sleep, wake up, eat and repeat those 3 activities.
As a deduction, sometimes holiday is boring. But not really, cause I think we have a lot of thing to do but we have to wait till ada mentol atas kepala. Last but not least, I'm truly sorry for my bad vocabulary and grammatical errors. Xoxo, kuragehime98.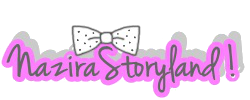 ---
Thanks for reading! :D
---